Welcome to Blindness Support Services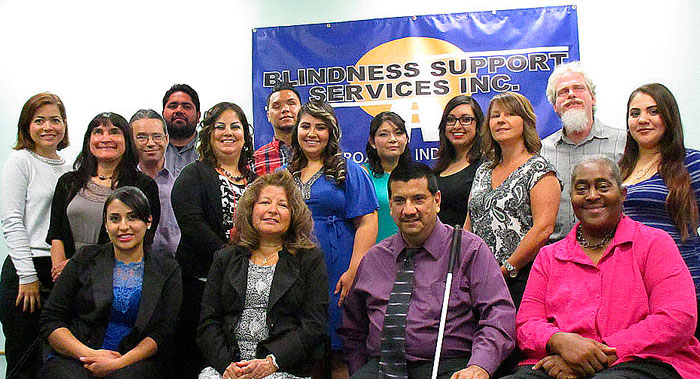 BSS staff photo 2016
| | |
| --- | --- |
| | We are dedicated to teaching those who are blind or have visual impairments to become more independent and adapt to the challenges they have. |
Breaking News!
Press Enterprise News Publishes an Article About BSS Children's Department
RIVERSIDE: Blind kids' craft class a great place to network
Families of blind children gathered in Fairmount Park in Riverside on Friday to help children prepare hand-crafted gifts for Father's Day. But according to Lolita Barnard, one of the coordinators of the Morning in the Park, the event was also about networking. Barnard, who works for the nonprofit group Blindness Support Services, organized the event with the Braille Institute. She said, "Morning in the Park" is an important networking opportunity for parents of blind children. "When they (families) talk to each other, they say, 'Oh my goodness, I can do this and I can do that,' " said Barnard. She added that one of the biggest challenges parents of blind children face is realizing what their children are capable of.
The Braille Institute has been partnering with Blindness Support Services for Morning in the Park about five years, said Nancy Waldner, child development consultant with the Braille Institute. Blindness Support Services provides the educational part of the program. "Braille Institute offers free programs and services to visually impaired individuals of all ages. Our Child Development program works with the family to offer educational support and resources so they can be better equipped to encourage their child's development," said Waldner.
"Programs like this are important because we offer support to families," Waldner continued, "whether it be in better understanding their child's vision impairment, providing them guidance on how to adapt the environment for their visually impaired child, helping them navigate school district services, or bringing them together with other families in a community setting."
Blindness Support Services is a local nonprofit organization that advocates for the blind. According to Barnard, they often go to homes to help teach families about the opportunities that are out there for blind children. "If they (blind children) have the right family support, they can thrive and do many things," said Barnard. She added that for many families there is a tendency to want to keep blind children sheltered at home. But advocacy groups, such as Blindness Support Services, now believe in integrating blind children into regular schools. "The goal is to get them mainstreamed," said Barnard. "They also take Braille classes at regular schools."
Blindness Support Services was started by Peter Benavidez in 1992, who currently serves as the president and CEO. The goal of the nonprofit organization is to promote independence and self reliance in people who are blind or sight impaired. Benavidez says he is a great example of what blind people can achieve. Although he is blind in one eye, he now operates a nonprofit that employs 20 people.
To see the article click this link
---
Pete's Corner
"Bad Habits"
---
| | | |
| --- | --- | --- |
| Upcoming Events | | BSS Calendar |
---
Descriptive Movie Presentations

This event is held on Thursday July 21, at BSS.
we will be presenting these descriptive movies.
Movie Times are at:
9:30 a.m. - 'Big Hero 6'
1:30 p.m. - 'Guardians of The Galaxy'
We host descriptive movie presentations for blind and visually impaired audiences.
There is a $3.00 donation and a variety of snacks are available for purchase.
---
Braille Club
This event will be on Friday July 29, from 10am-12noon at BSS.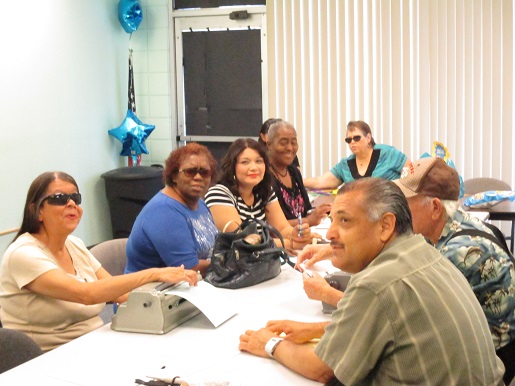 It is a lot of fun. Come on in and be a part of this club. We will have phrases printed in Jumbo Braille, Uncontracted Braille, and Contracted Braille. We will focus on how to maintain and increase the fluency of your Braille reading skills.
Braille Club Rewards
Participants earn free entry to one Descriptive Video of their choice after attending four consecutive Braille Club meetings or reading 20 unique braille strips at your designated level. Invite your Braille Reading friends to come and improve their skill with monthly practice. BSS Students have priority on space available but every Braille Reader is welcome. Remember to sign in so your participation is documented and you get credit for your accomplishments.
---
At Blindness Support Services we train people who are blind or visually impaired with specialized equipment and computer programs. We take in various kinds of blind people with a wide variety of needs.
Whereas some are in need of Mobility training, others need Independent Living Skills training. We also have two adjustment to blindness peer support groups that facilitate people who have lost their sight and are in need of group counseling. One group is for Spanish speakers and the other is for English speakers.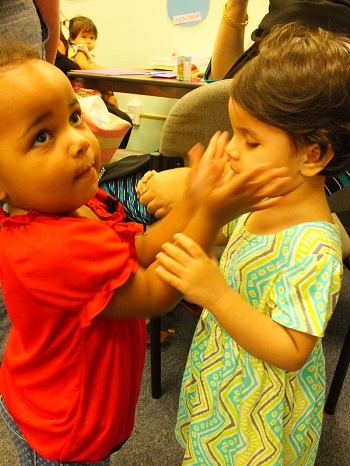 We have a Blind Children's Department where preschool age blind or visually impaired children are taught with tactile learning props and teaching tools as a precursor to reading Braille.
There is a Blind parenting class for parents who are blind and need help with child rearing practices and advice.
Our Department of Older Adults provides in-home visits for seniors and teach independent living skills to seniors who are blind or visually impaired.
There are a lot of different classes and resources here at blindness support services. Our Departments also provide training in Spanish.
Our goal is to help people who are blind achieve a higher level of independence so they can function by themselves in society.
---
Would you like to Volunteer?
If you are interested for internship or volunteering.
E-mail a filled out form below.
All volunteers will be screened.

Send form to info@blindnesssupport.com


If you would like more information,
please contact us at:
(951) 341-9244.